we need to talk:
agents of conduction (2021)
University of Michigan, Taubman College of Architecture + Urban Planning, M.Arch Thesis
Super Jury Recipient

During the 2020 pandemic, societies evolved a new level of dependence on the internet. It has enabled attention harvesting through addictive software, polarization through filter bubbles, and powerful etiquette transformations.

Objects that occupy physical weight in space invite a tactile experience beyond the 2D picture-plane.
'We need to talk' is modeled as an interactive furniture set embedded with commoning catalysts and social cues.
---
Misinformation
Are we aware if and when our attention or behavior is being manipulated? How do we flex power over unseen attention harvesters? These queries serve as a guide and an inspiration as we pursue our modern faith in our choreographed lives.
In the culmination of global capitalism, modern computational technology, and the harvesting of vast amounts of behavioral data, surveillance capitalism was born. Made of coded algorithms and fueled with personal data, these digital agents have succeeded in behavioral manipulation based on identifying moods, locations, and desires of their users. They reward their captive audience with shallow dopamine spurts that quickly crash and emotionally reverse, triggering addictive dependencies through digital tools such as the smartphone. These mana fields represent the attention, care, and energy that surrounds us.
The effects of social media were examined as a platform of attention harvesting and behavior manipulation, enforcing divisiveness and misinformation in the present day United States.
'We Need to Talk' prototyped architectural responses that aim to counter polarizing digital forces.
This project is modeled as interactive furniture embedded with commoning catalysts and social cues.
Rather than tapping into our vulnerable reactive intelligence, the designs seek to promote our reflective and deep intelligences, encouraging curiosity through interaction, and elevating wisdom over efficiency. The design project aims to exploit pressure points of addictive software through participation, space, and a questioning of reductions. The interventions have the ability to grow into the fabric of the neighborhood, influencing social routines and fostering a neighborhood commons.
---
In reference to ancient human comforts, a campfire invites all to gather and share the attention of one another.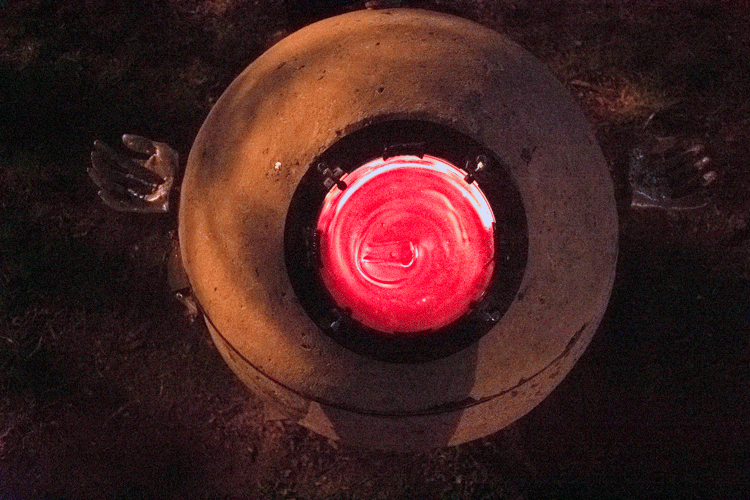 The Orb is designed and fabricated as a public infrastructure that provides a social gathering space or modern hearth, heat distribution within thermally active outdoor furniture, and a neighborhood bread oven. The warm thermal mass and anamorphic optical lenses draw public curiosity. The 400lb object cultivates an atmosphere that cannot be reproduced digitally.
Darkness activates the view-ports, while cooler nights draw hands in for communal warmth. The firelight magnifies and projects outward, while the mass slowly warms.

Food and baked goods can be prepared on a threaded steel grill top, gathering the neighborhood through dining.

---
The heating system operates by thermosiphon,
the steel coil embedded within the fire heats and draws pressure from the closed loop system, circulating hot water throughout the thermally active furniture.
Thermosiphon is a method of passive heat exchange based on natural convection which circulates a fluid without the necessity of a mechanical pump. It is the same technology used in a drip coffee pot. The system's operation is dependent on a temperature differential within the regulation tank. The steel coil embedded within the fire heats and draws pressure from the closed loop system, circulating hot water throughout the thermally active furniture.
Thermally conductive materials of aluminum and copper are fused with insulative concrete with high thermal mass, enabling the participant to feel kinesthetic energy change through interactions.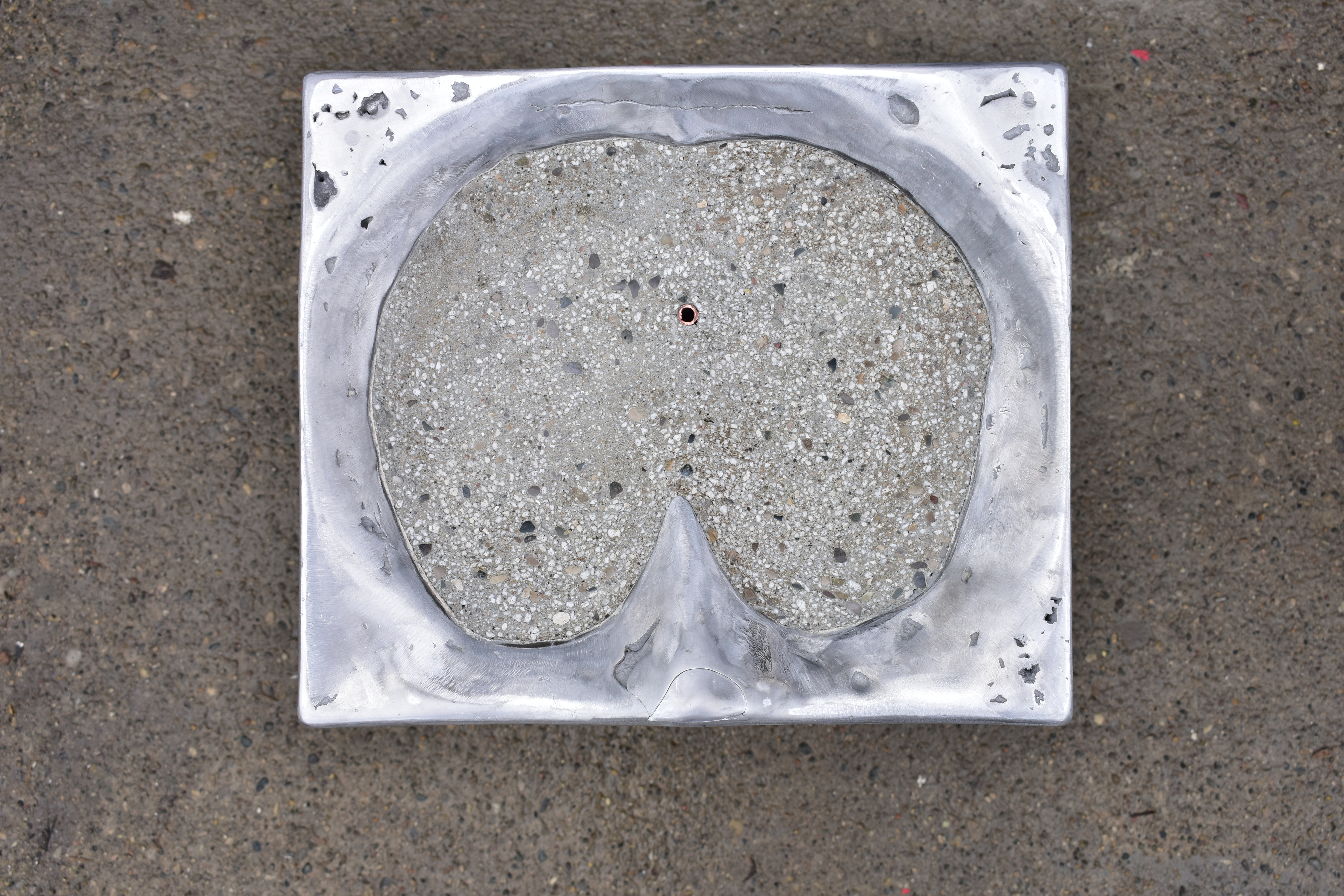 Cast aluminum is lagged into insulative concrete to create conductive warm spots on the furniture. Two alumnium hands are used as handles for the removable lid.

Shaped bodily cues invite a platonic relationship between body and object. The prototypes reference technologies used prior to the information age that offer intimate energy-transfer processes through water, steam, heat and electricity. The materials chosen were driven by thermal conductivity attributes, physical body cues, and their curiosity value- for conversation sparks.
The brick is cut in an icosahedron structure of hexagons and pentagons. Two magnified lenses extend into the fire through steel shafts with accompanying custom brackets, protected from the interior by high heat ceramic glass. The exterior shell is composed of a refractory concrete mixture of volcanic rock aggregate, fireclay, and fine silica sand.
---
Process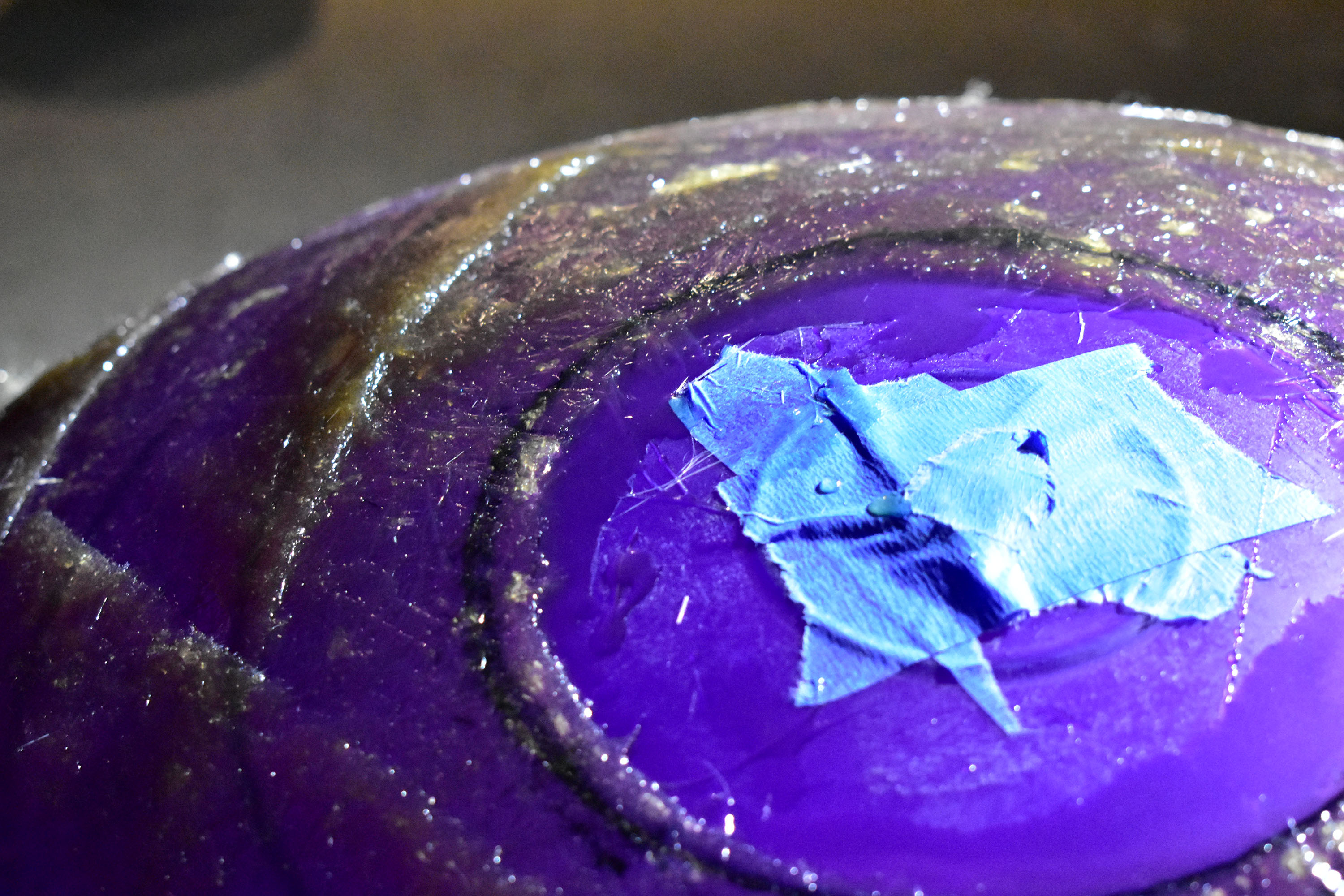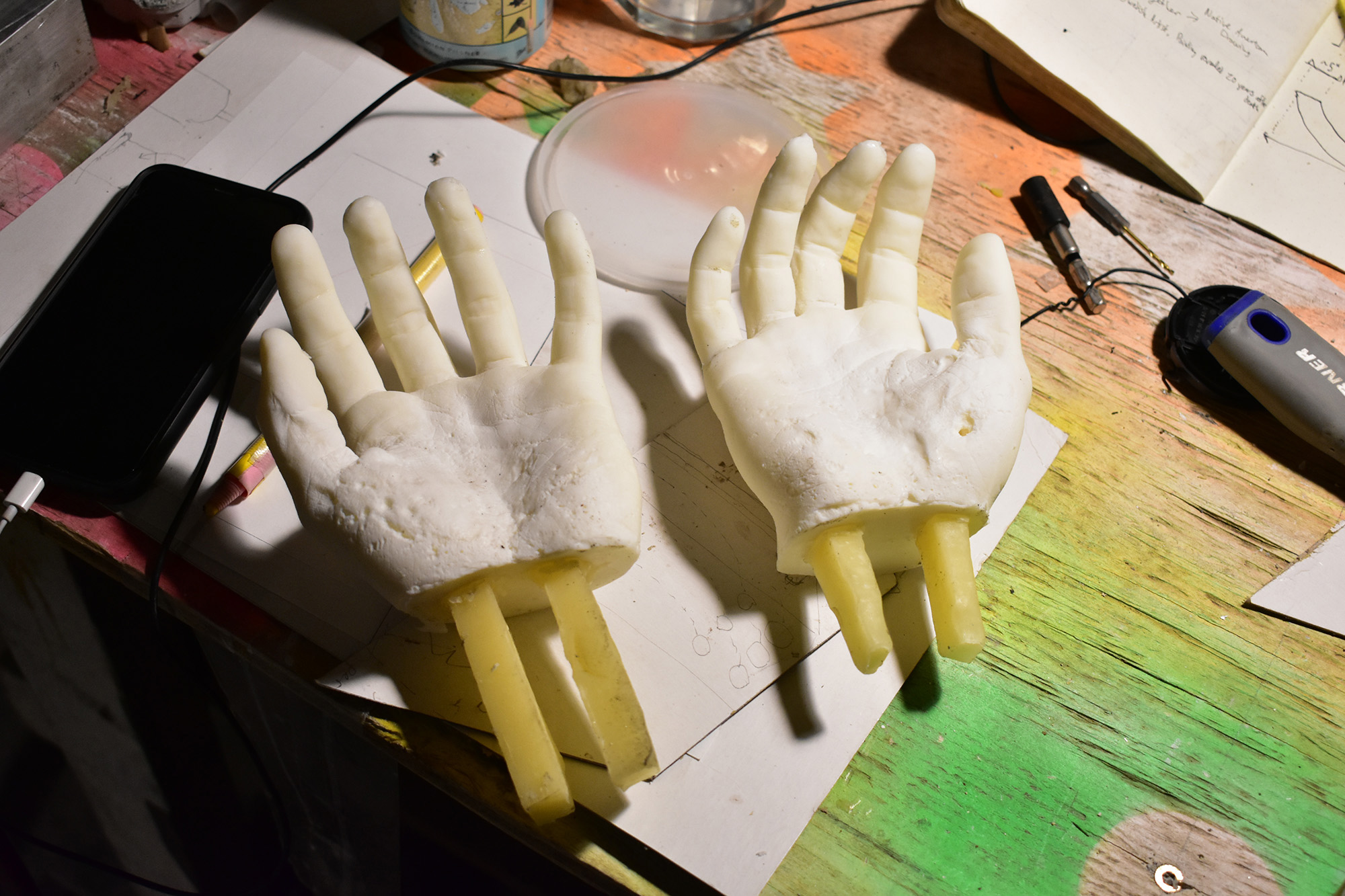 ---
---
Waylon Richmond, 09/2021
University of Michigan, Taubman College of Architecture + Urban Planning, Ann Arbor, MI, USA
Prof. Malcolm McCullough, Thesis advisor
Prof. Catie Newell, Fabrication advisor
This project was selected to participate in the Taubman College thesis 'Super Jury' event. Thank you to the Arts Engine Microgrant for enabling the fabrication of the project.