co-co: a detroit housing collective (2020)

Prof. Kathy Velikov and Jonathan Rule
University of Michigan, Taubman College of Architecture + Urban Planning
Collaboration with Jamie Lee and Ellianne Huizinga

Coco is a mixed-used mixed-income housing proposal focusing on the integration of social, economic, environmental and cultural endeavors.
The project features 216 units, spread across the site in 7 buildings, the project mixes community courtyards with vibrant street corridors filled with a range of public amenities. With a focus on passive design in tandem with prefabricated construction methodologies, this project promotes diverse communities that are also environmentally conscious. This project seeks to promote diversity through hyperlocal density and appropriate-able infrastructure to build a strong sense of community for the future residents, neighbours and citizens of Detroit.

Site Strategy
The site is located in the historical and culturally significant area of Grand River Avenue and Oakman Blvd, where the orginal Sears Headquarters once stood. The site is divided into strips that link East to West, parallel to Grand River Avenue. To increase the site accessibility from the corridors of the site, we decided to carve out the massings for neighborhood. While splitting the strips up, some are joined to form smaller enclosures, forming
two different building types, C-shaped Courtyard and Strip
, that could be repeated across the site. In both of these building types, the ground floor is used for public and private amenities atop a concrete podium, while the modularly constructed housing is located above. To accommodate diverse uses, the ground floor is designed to have an open floor plan with a higher ceiling height. The plan aims to co-locate collective amenities in the physical environment for convenience and closer proximity, bringing different groups of people together in a natural way. It is achieved through a rain garden, permeable ground surfaces and bioswales at lower points of the site by the newly designed Joe Louis Greenway, a 17.5 mile access path connecting city neighborhoods.
Communal Amenities

In addition to the development of affordable housing, COCO's site plan involves a range of public amenities and programming, from large to smaller scales, with community-focused initiatives including education programs, commercial development projects, and community greening efforts. The site transitions from public to more resident focused program space, from Grand River Avenue into the neighborhood.


The Grand River Public Hub, offset from Grand River Blvd, acts as a public interface for the site, inhabiting larger programs such as food courts and markets. Further north the programs localize into creative spaces, social support spaces, and local production uses. The two northern C-shaped buildings function as community hubs, with local programming such as health care, child care, cafes, grocery stores.

Tapping into its adjacency to the Joe Louis Greenway, the eastern strip buildings become creative production hubs, co-working spaces for local entrepreneurs, art and cultural spaces, theatres, recording studios, creative spaces, kitchen incubators, food hubs and food banks. The exposure to the pedistrian traffic on the greenway, together with the welcoming social infrastructure helps create a community node in the neighborhood.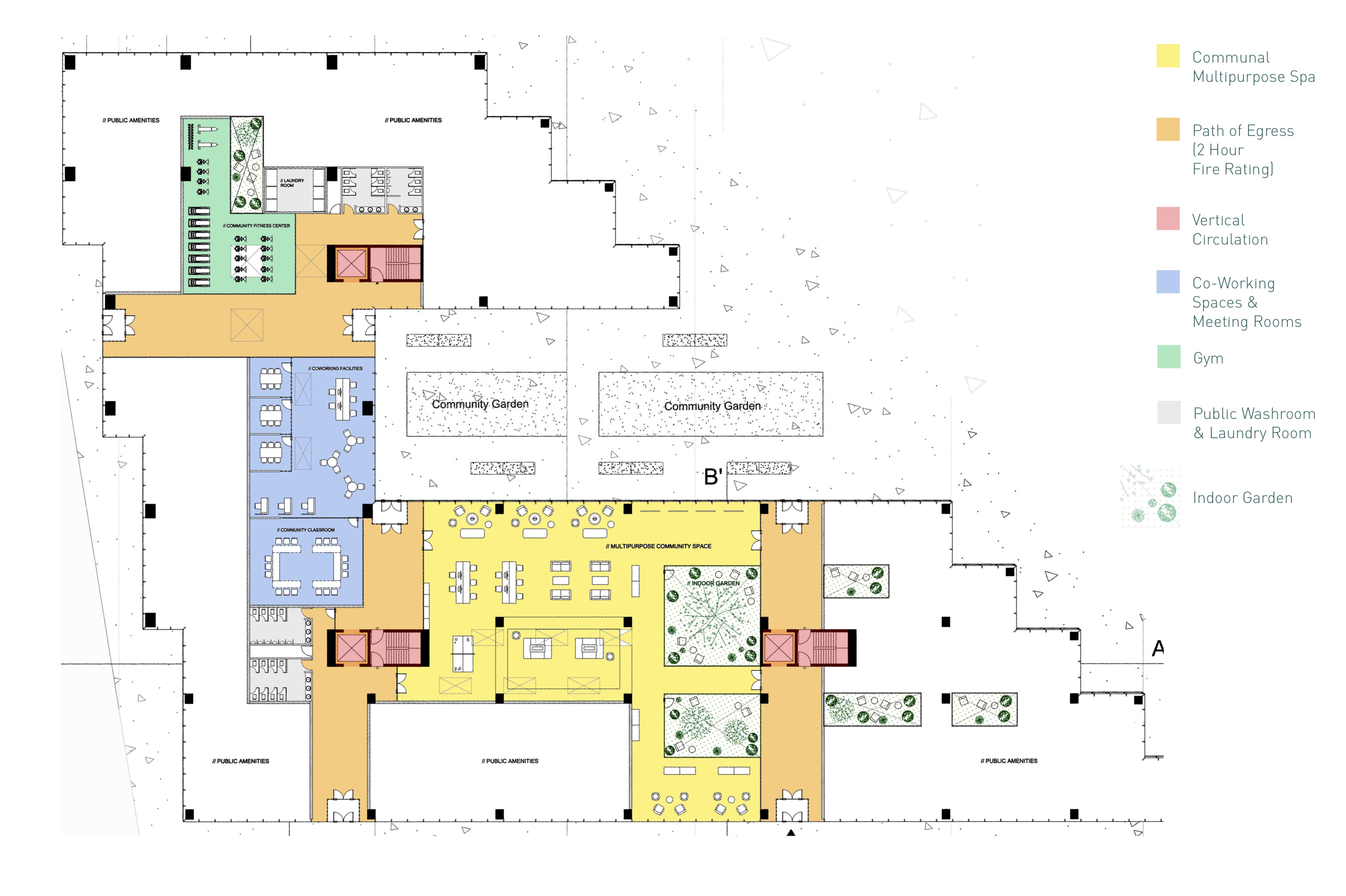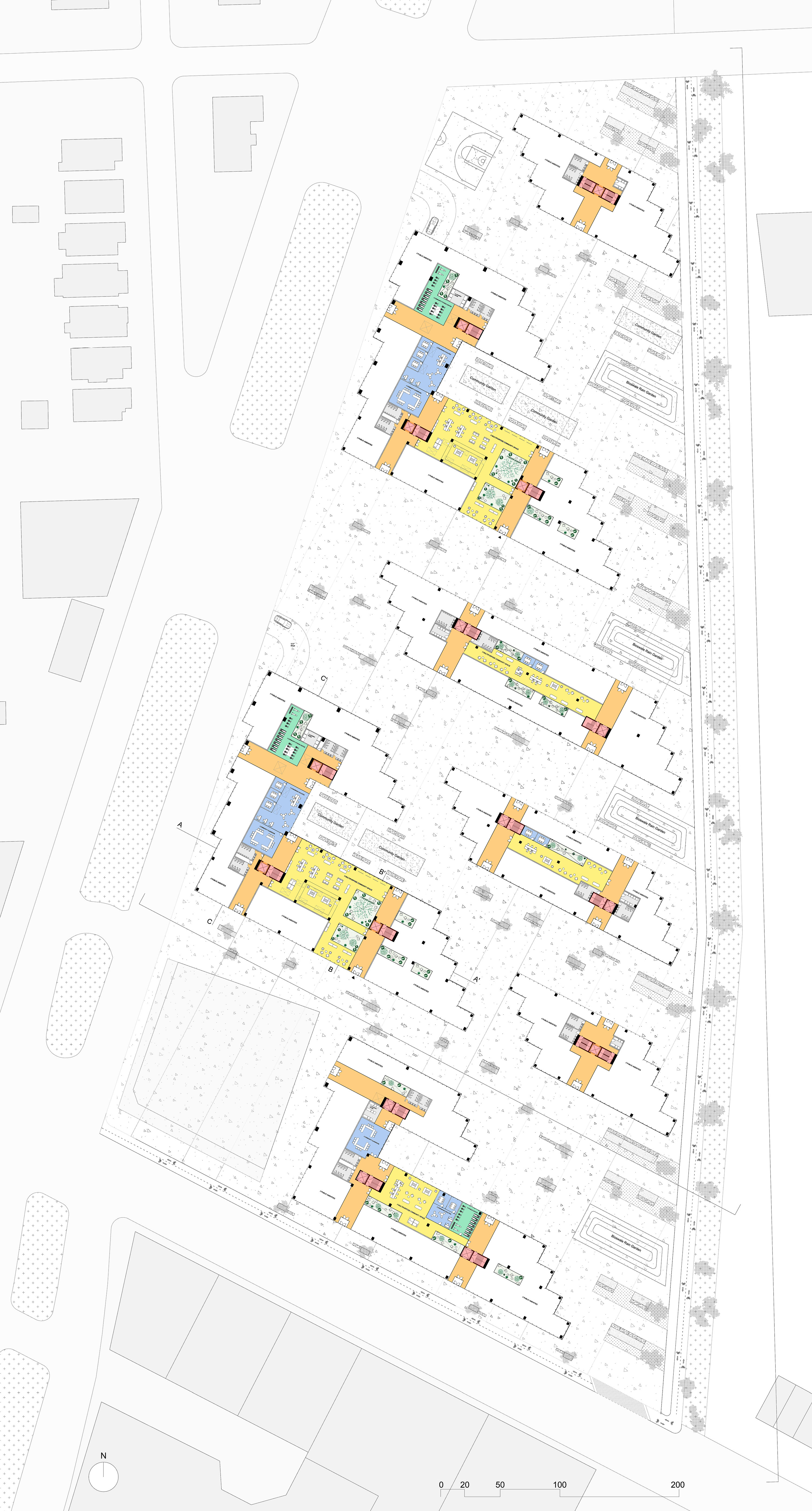 The 17.5 mile Joe Lewis Greenway is currently under construction and is woven into the living street circulation with public greenspace.
Active Environmental Systems

Electricity Consumption 4.61 kWh/ sq ft:
1,029,099 kWh/ year
Typical Mixed Built Net Embodied CO2:
6,309 metric tons
Modular CLT Construction sequesters carbon emissions from fossil fuels by 250%, offsetting the embodied CO2 included in the cast concrete for the project completely.
Photovoltaic panels additionally offset operation emissions with the building.
The cast concrete podium operates as a thermal mass regulator, with embedded radiant piping.
A 400ft deep geothermal loop regulates the warm water system within the building, adding additional efficiency.
Wall Section and Facade

Wall Section R-Value: 30.14 (K·m2/W) Laminated Glass - 1
Pre-fabricated EIFS - 8.4
Fibre-Board Sheathing - 1.34
4" EPS Insulation - 14.4
4" CLT Panel - 5.0


Prefabricated EIFS-Clad Wall Panel Assembly
EIFS Layers
1. Enamled acrylic-polymer finish coat for durability
2. Exterior Primer
3. Base coat
4. Reinforcing mesh
5. Fasteners
6. 2" EPS Insulation with
water-resistant base coat
7. 1/4" Drainage cavity with vertical metal on back of insulation board
8. Moisture barrier & adhesive


Laminated Glass Panel and Powder-Coated Perforated Metal Screens

- Directly mounted on the exterior walls, eliminates the need for glass drilling or point support glass installation

- Mounted ventilated facade glass cladding on to walls through wall embeds, eliminating the need for costly steel structural supports

- Mounted perforated metal screen, openable to exterior from fenestration

- 6 sets of steel components, base on similar component logic

Designing a medium-rise building for visual connectivity to the street,
the buildings considering light, shadows, and exposure to the southern light condition.
With a highly neighborhood accessible ground level, private courtyards are created within the building through the staggered stacked module for smaller scale communities. Modular units are configured to maximize the surface area of exposure to southern solar lighting, while ensuring appropriate fenestration. The modular units are configured to enable the apartments to have direct sunlight on at least one face. Overhang awnings, translucent glass screens and perforated metal screens are installed to provide shade and privacy.
Solar Orientation and Shadows

June 21st vs. December 21st
Modular Unit Strategy

We conducted design iterations based on 16x32' CTL volumetric modules, as we determined modular housing as the most economical form of construction that would save time and costs. Establishing 8 different unit types through adjacent relationships of modules, the stacking of these modules enables a variety of roofing conditions,
creating active circulation spaces and pathways, ajoined outdoor decks for neighbors to gather, and private outdoor decks for residents.
Circulation and Structure Plans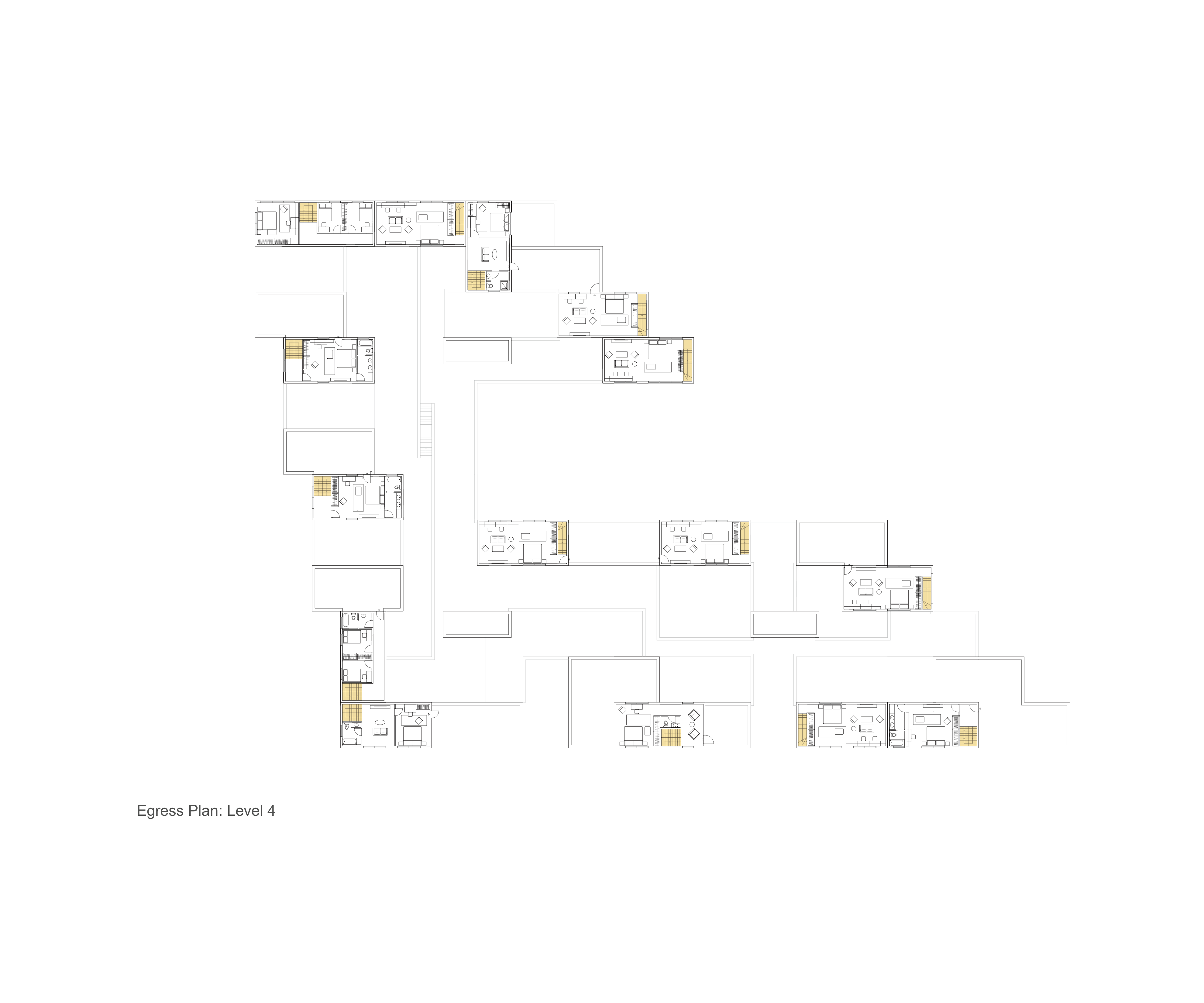 ---
Waylon Richmond, Jamie Lee, Ellianne Huizinga 12/2020
Prof. Kathy Velikov and Jonathan Rule
University of Michigan, Taubman College of Architecture + Urban Planning, Ann Arbor, MI, USA